Skip to Main Content
It looks like you're using Internet Explorer 11 or older. This website works best with modern browsers such as the latest versions of Chrome, Firefox, Safari, and Edge. If you continue with this browser, you may see unexpected results.
Course Info
Professional Responsibility
This course deals with questions underlying the responsibilities of the lawyer, as a professional, to self, society, client, and the profession. Premises concerning the lawyer's role or roles within the context of the adversary system are examined in some detail, as is the idea of professionalism. The Model Code of Professional Responsibility and the Model Rules of Professional Conduct are analyzed as generalized statements of the aspirations and obligations of lawyers, and as applied to concrete problems.
Professor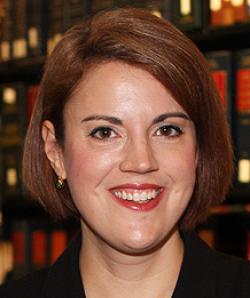 Prof. Cassandra Burke Robertson is John Deaver Drinko - BakerHostetler Professor of Law and Director of the School of Law Center for Professional Ethics, who regularly teaches Civil Procedure, Professional Responsibility and Secured Transactions.
Syllabus
Study Aids
These study aids are available online. Please click the hyperlinked title to view them. For instructions on how to use the specific platforms, including troubleshooting, please view Andy Dorchak's Study Aids Research Guide.
Audio Guides
CALI
The Center for Computer-Assisted Legal Instruction (CALI) Professional Responsibility lessons are available on the CALI Website.
If you do not have a CALI account, please contact the reference librarian for assistance.